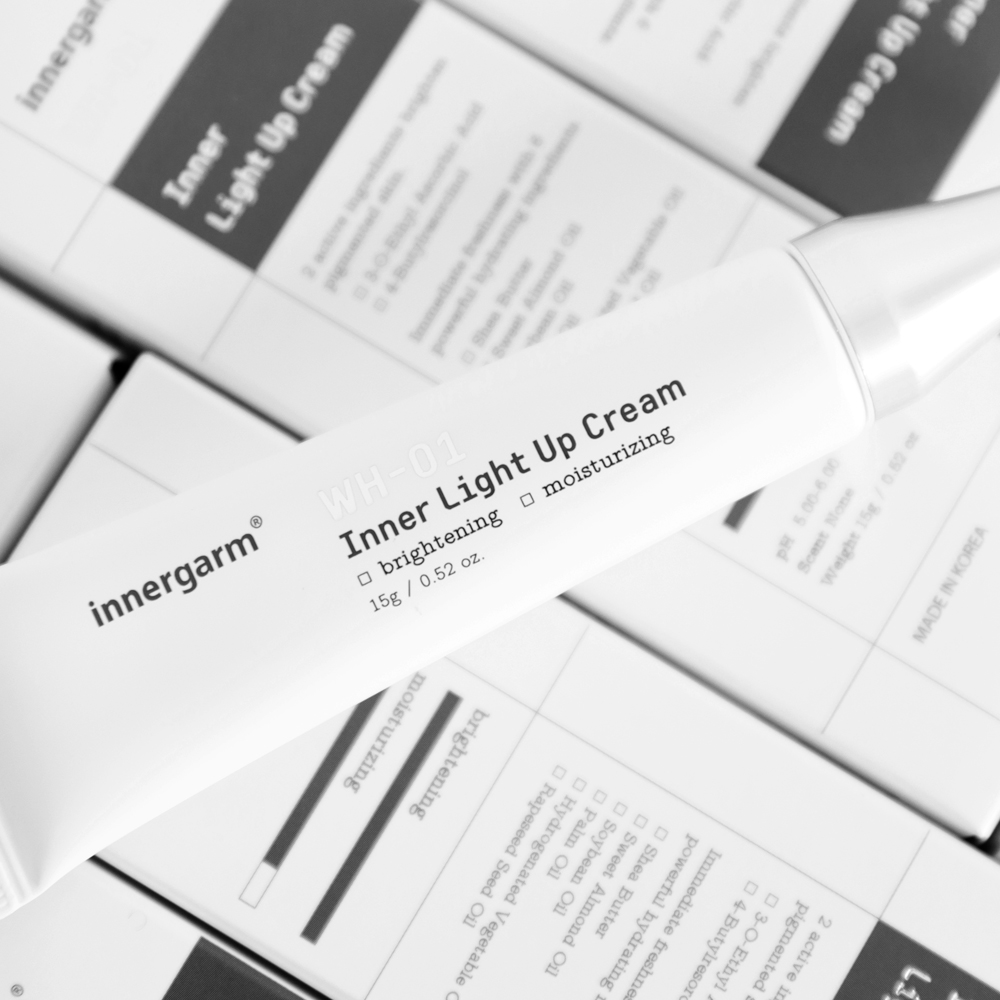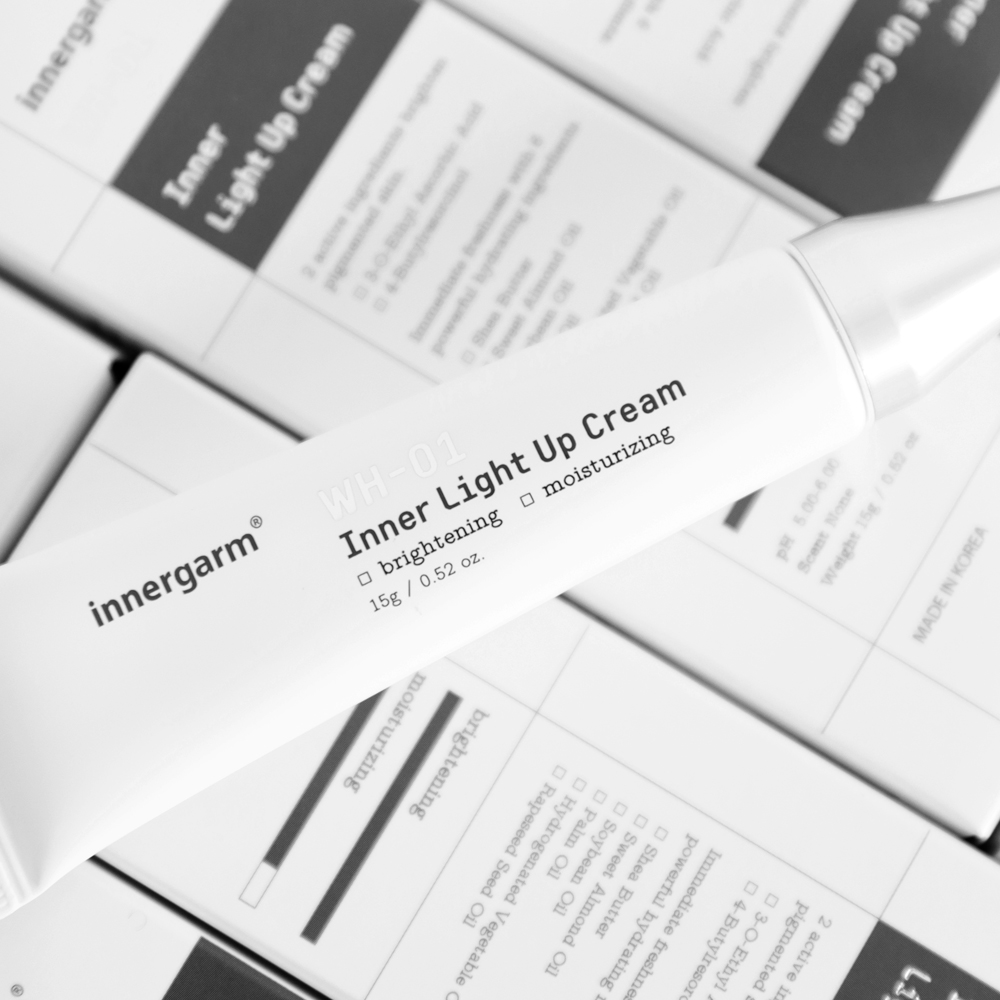 innergarm
innergarm WH-01 Inner Light Up Cream
innergarm WH-01 inner light up cream
innergarm WH-01 Inner Light Up Cream is an intimate whitening cream that brightens discolored skin of intimate area especially for vulva.
Vitamin C derivatives and resorcinol brightens the darkened skin and 6 kinds of oil & butter ingredients lightly absorbed into the skin and makes the skin moist and soft.
The contents are 100% formulated by COSLAB Technologia Cosmetica S.r.l in Italy and packaged in Korea.
Intimate area is prone to pigmentation, melanin discoloration, the skin gets weak and darkens continuously caused by skin friction, dryness, irritation, scars, waxing and etc.
Keep your intimate area bright and vibrant with innergarm WH-01 Inner Light Up Cream.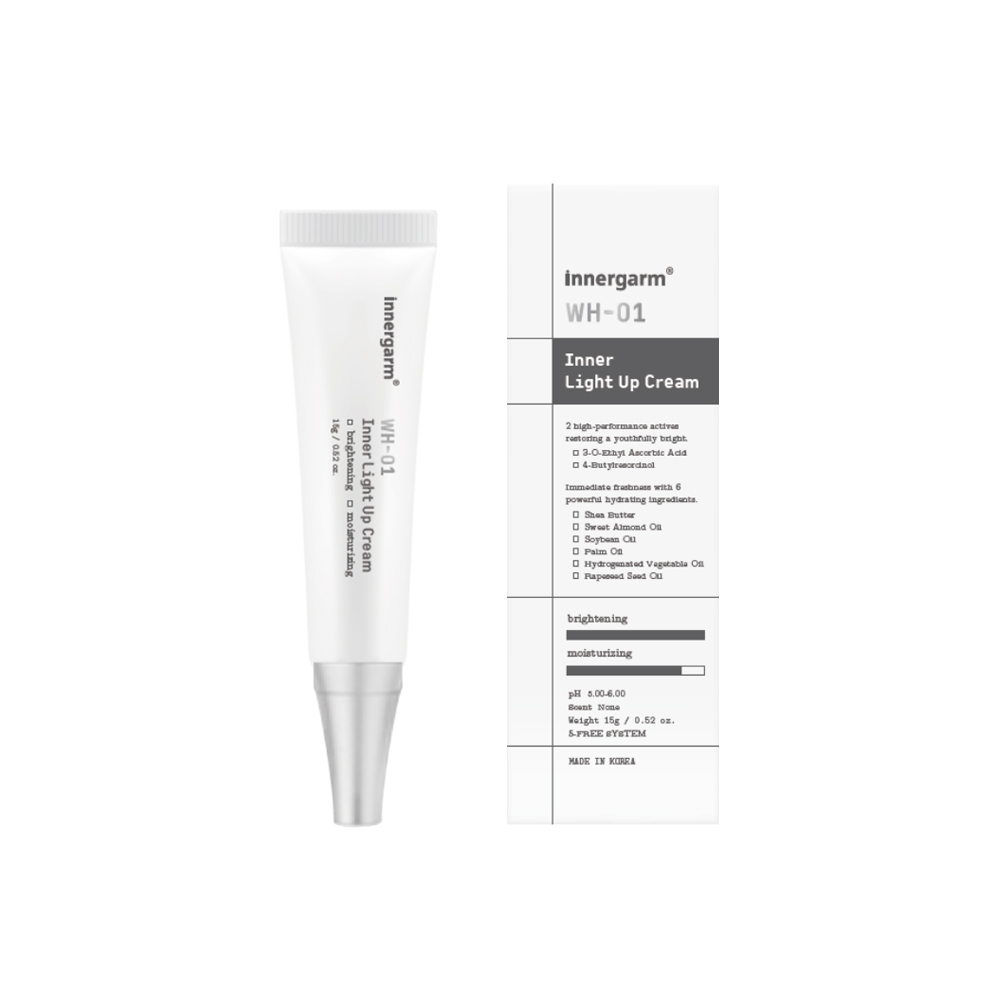 ■ Brightens discolored skin of intimate area
innergarm WH-01 inner light up cream's formula contains only ingredients that have been specially selected for the intimate area.
l Perfect solution for brightening and moisturizing
l Alleviates pigmented melanin and inhibiting pigmentation
l 3-O-Ethyl Ascorbic Acid, 4-Butylresorcinol: Active ingredients that brighten discolored skin
l kinds of oil / butter (Shea butter, Sweet Almond oil, Soybean oil, Elaeis Guineensis (Palm) Oil, Soybean seed oil, Brassica Campestris: Quickly absorbing & moisturizing effect
l Paraben, Etanol, Benzophenone, Allergens Free
■ Clinical test completed

Skin irritation test completed
Lightening by at least 10% after 28 days, 14% after 56 days* (Completed clinical test by Italia Pavia University)
■ Airless tube

Airless tube blocks outside air and dirt.
Keeps the active ingredients stable and supplied to skin comfortably & effectively.
■ How to use
Take an amount of the size of pinky nail (0.25 g per time) and gently apply on the bikini line and vulva twice a day.
Be careful not to use on muscous membranes.
■ Ingredients

Water, C12-15 Alkyl Benzoate, Glyceryl Stearate Citrate, Butyrospermum Parkii (Shea) Butter, Glycerin, Prunus Amygdalus Dulcis (Sweet Almond) Oil,
4-Butylresorcinol, Trehalose, Trehalose, Cetyl Alcohol, Dimethicone, Glyceryl Stearate, Caprylyl Glycol, 1,2-Hexanediol, Glycine Soja (Soybean) Oil, Elaeis Guineensis (Palm) Oil, Brassica Campestris (Rapeseed) Seed Oil, Sodium Hyaluronate, Sodium Dehydroacetate, Hydrogenated Vegetable Oil, Tocopherol, Euphorbia Cerifera (Candelilla) Wax, Disodium EDTA, 3-O-Ethyl Ascorbic Acid, Xanthan Gum, Lecithin, Ascorbyl Palmitate, Beta-Sitosterol,Citric Acid, Squalene