Tea tree
wettrust Tea Tree Calming Feminine Mist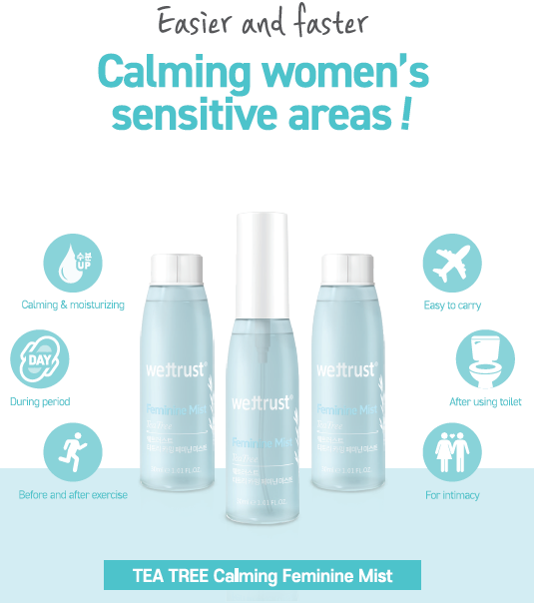 01 Tea Tree Leaf Water 88%
Revitalizing & refreshing scent
02 SUB-ACID pH
Supporting healthy vaginal pH balanced
03 Easy & Convenient
360° multi angle spray
Not necessary to wipe off after use
04 Moisturizing
Nature originated ingredients and Vitamin B complex
05 Relieving Odor
Fresh up with Tea Tree anywhere, anytime !
06 Dermatologist Tested
Hypoallergenic mist for intimate area
(Antibacterial test & Deodorization test completion)
Ingredients
Tea Tree Leaf Water(87.93%), Tea Tree Leaf Oil(0.04%), 1,2-Hexandiol, Glycerin,
Caprylyl Glycol, Propanediol, Niacinamide, Polyglyceryl-1, Laurate, Polyglyceryl-10 Myristate,
Etylhexylglycerin, Adenosine, Butylene Glycol, Propanediol, Sodium Hyaluronate
Recommended for those who
▶ Are looking for a product with instant soothing, refreshing, moisturizing effects.
▶ Want to stay all-day-fresh even at work, school, or on the go.
▶ Are concerning unpleasant odor during periods/ after working out/ at a toilet.
▶ Are looking for a perfect feminine mist that can be used any angle(360-degree) perfectly.
Directions for Use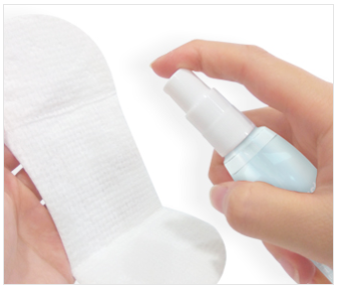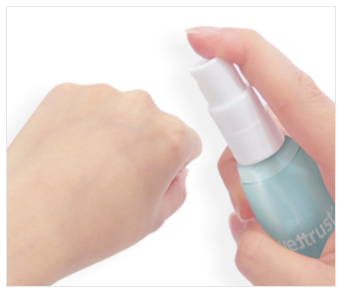 - Spray over your intimate area, a sanitary pad or toilet tissues.
- Spray 1-2 times from 15-20 cm from the intimate area.
- Not necessary to wipe off after use.
- Use as often as desired at home, at the office or on the go to soothe, refresh and moisturize your intimate area at any time of the day.