NEWS
CEO Interview: Mr. Ji Hwan Bang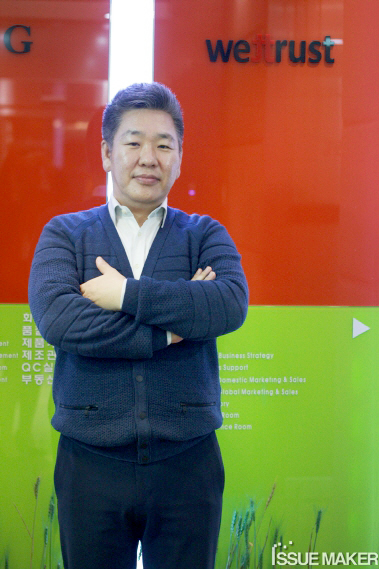 Like a proverb, 'A sound mind in a sound body', health of women's intimate zone is very closely related to women's general health. It is very important for women to check the health of their intimate zone regularly and carefully.

However, many women tend to neglect or forget to listen to the voice from their intimate zone. Lack of knowledge or understanding, conservative social atmosphere and awareness on the intimate zone caused this situation.

There is a boom in the feminine care/hygiene product market in Korea these days. However, this trend started in Japan already in 2000. Mr. Ji Hwan Bang read this market trend earlier than his competitors, and he established wettrust to do feminine care/hygiene business in 2003.

When Mr. Bang started his business in Korea and in Japan in 2003, he had to face countless difficulties. Mr. Bang looked back on the past with a faint smile during the interview. He said, "It was quite difficult to sell products in Korea. There was almost nobody who knew what feminine cleanser was. Also, setting a price was not easy at all to satisfy both consumers and the company. I started my business in Korea first, but as the Korean market did not open easily and quickly, I had to think about another 2nd plan: entering Japanese market instead. Many Japanese women were interested in feminine care products even in the early 2000's. However, they did not have a good impression on the made-in-Korea products. I had to put up with difficulties both in Korea as well as in Japan due to different reasons.

Customers started to find out the value of wettrust thanks to good quality of its products. Before long, wettrust became popular among Japanese women. Women who suffered from vaginal dryness especially praised wettrust a lot, and their compliments on the Internet became the source of word-of-mouth. Mr. Bang said, "It would be never enough to thank customers who encouraged me at that time. Their compliments helped me to be here today." He also added, "wettrust is eagerly achieving various international certificates and standards to strengthen quality competitive power and to knock the global market as well." To give unshakable trust to international customers, wettrust achieved ISO 9001 and ISO 13485(quality management system). Also, some of wettrust products have been acknowledged as medical devices in Korea, Japan, EU and USA.

At the end of the interview, Mr. Bang said, "I hope there will be more seminars talks about women's rights and their health. Women's intimate area should not be a topic of secret talks. There is no doubt that women's intimate area is the most important part of their body. Social atmosphere and awareness should be changed as soon as possible."

Reflecting Mr. Bang's hope and wettrust's mission ("To Be Gorgeous from Inner Beauty"), wettrust does varied marketing activities actively. Wettrust participates in university festivals, cultural events and domestic/international exhibitions providing free samples, telling how to use to raise brand awareness.