NEWS
Interview with Jun Harada
Delicate Zone Committee #05_ Interview with Jun Harada, author of "How to Keep Your Vagina Healthy Enough"
Who is Jun Harada?
- Born in Tokyo in 1954.
- Dropped out of Wako Gakuen High Scholl at the age of 15.
- Worked at a printing company taking classes at a vocational training school.
- Joined Komichi Shobo, a publishing company, in 1989 and currently working as a representative director there.
- Along with the publication of the Ayurveda book, she met Ms. Yuiko Tatsuzen(a midwife, acupuncturist, and a nurse).
With Ayurveda book, she came to have a chance to write a book titled "How to Keep Your Vagina Healthy Enough".
Ms. Yutoriko Tatsuto guided and supervised the book.

People tend to think it's just OK to have an aged vagina as they grow old. It is even easy to see people without having sex at all around us. People seem to have forgotten a sexless life accelerates vagina aging.

While I was preparing Ayurveda book publication, there was a conference on the alternative medicine. As it was difficult for me to meet the schedule of the conference, one of the staffs of the company attended it on behalf of me. Next day, the staff said, "Ms. Harada, I was very surprised at the conference!" She added that every woman had to take care of ten holes of their body. I could agree with the importance and necessity of looking after holes such as eyes, ears, nose, mouth and anus. However, caring vagina sounded very strange to me frankly cause I've never thought about caring vagina ever before. Out of curiosity, I contacted Ms. Tatsuto to hear more on caring vagina and interviewed her many times. Looking back that time, I was swept by a sense of duty to tell this astounding information to all Japanese women.

I'm a typical Japanese woman. We, Japanese women, tend to think talking about delicate zone is not allowed and of course a shameful thing. To tell you the truth, when I met Ms. Tatsuto for the 1st time, I felt disgusting during the conversations with her. However, as I had more and more interviews with her, my thoughts had been changed. I could be finally sure that every woman had to know about their vagina in detail.

Originally, I had a plan to recruit volunteers who wanted to try vaginal care in the way of Ms. Tatsuto taught. However, my plan was unsuccessful. Even I myself was reluctant to follow Ms. Tatsuto's teaching, how come would it be possible to recruit volunteers? So, I decided to follow her teaching as a brave volunteer.

As I studied further and further on women's delicate zone, I couldn't help but being lost for words due to Japanese women's ignorance on their important area. As an adult, I think we have to have proper knowledge on the area. Pretending 'just OK' without any effort to know what healthy vagina is has to come to an end.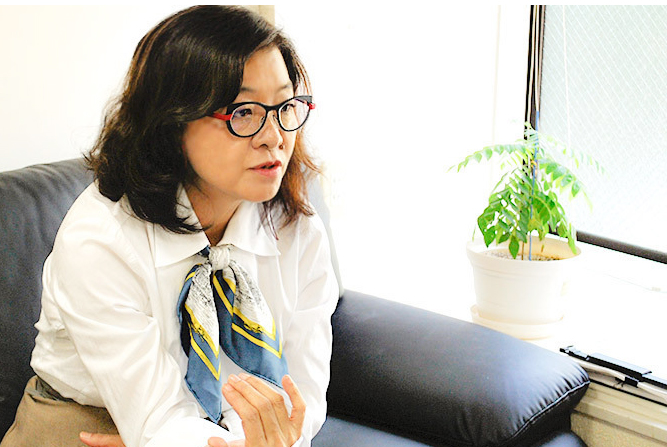 In western countries such as France, Italy and US, it is quite easy to see lubricant or vaginal moisturizer in CVS or pharmacies. Particularly, France is one of the countries I respect indeed. French women are very much familiar with taking care of their vagina as well as pelvic floor muscle training. Pelvic floor muscle training is one of the best to tighten your loosen vagina. Women have to be very cautious on loosen vagina cause it might develop uterine prolapse (a form of female genital prolapse). According to statistics, more than 60% of women might suffer from uterine prolapse. It is one of the two women among us.

Now I also would like to talk about French people's sex. Frenches have sex when they want to relax themselves. What about Japanese people? Wasn't 'Dominance' and 'Obedience' the 1st image you could think of? We, Japanese people, tend to think active women in sex are "filthy".

Let's return to French people's sex. We have to keep in mind that the parasympathetic nervous system is pro-erectile whilst the sympathetic nervous system is anti-erectile. When we know about our body system, connecting relaxation to sex is very logical.

For the mindset change, we have to start with proper sex education for childeren. It is time to abandon old-fashioned sex education that has not been changed at all for decades.

So far, urinary incontinence has been regarded one of the geriatric illnesses. However, these days, even women in their 20's also suffer from urinary incontinence due to aging pelvic floor muscle. If you're concerned about this illness, I'd like to recommend you these two: 1) perineal region massage and 2) pelvic floor muscle training. If you feel perineal region massage awkward, start with looking at your delicate zone today. I'd like to remind you of the proverbs, "Better Late than Never".

Doing nothing just promotes the symptoms. Insert your finger into your vagina with some oil to check where your womb is. If you can touch your womb (cervix) right after inserting your finger, you have to start pelvic floor training right now to prevent uterine prolapse.

I cannot forget the moment I looked at my delicate zone for a long time in the mirror after interviewing Ms. Tatsuto. My vulva was not what it used to be. With continuance of perineal region massage I could recover elasticity. Moreover, I could overcome chronic constipation. If you feel painful when you have sex, why don't you start with perineal region massage? You'll see the change for sure. For proper massage on that area, you can get some help from my book, "How to Keep Your Vagina Young Enough" or you can find videos on YouTube.

Now I'm in my 60's but I feel much healthier than my early days when I was in my 50's, 40's or even 30's. As I grew old, I lost my interest in sex. However, as my vaginal gets better and better, I could become much more sexually active. I hope there are more women to enjoy their life (including their love life) as well as their love life with a healthy vagina like me.